Long Island Ice Dam Removal & Damage Repair
Snow Removal, Roof Shovel and Ice Dam Leak Repairs!
Residential and Commercial Snow Removal, Snow Plowing and Roof Shoveling Service
Call us today for Roof Snow Removal and all of your properties' Snow Plowing and removal needs!
Driveways, parking lots, side walks, etc. No job too big or too small!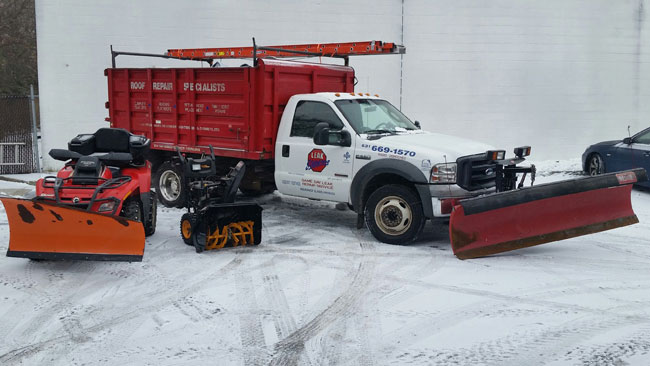 Ice Dams
Ice damming is a direct result of improper attic ventilation, exhaust ducting and insulation. Ice dams are formed when snow melts and freezes to ice at the edge of the roof.
Most roofers do not understand the full scientific concept of air –flow, condensation, drafts. You'll find these men standing in your back yard, looking up at the ice saying "Wow, this is some crazy winter!! I've never seen ice like this before."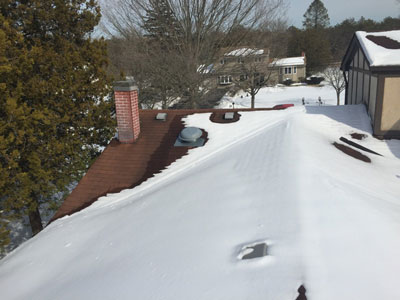 Have you ever thought about this?
How does the snow melt if it is 20 to 30 degrees?
Why does my neighbor still have a roof full of snow and no ice, meanwhile I have ice in my gutters?
The ANSWER:
The internal temperature of your attic is the real issue. Heat from leaking high hats, bathroom fans exhausting into attics, leaking attic staircases, leaking air conditioning ducts and heating units (in attic), and heat radiating through insulation all contribute to warming up the attic. This is what melts the snow!!
Without proper attic ventilation, attics can be as warm as 50 degrees on a 20-degree night! The best roofing systems will have a hard time keeping the water out. Ice/water shield, Lifetime roof systems and the best 2nd and 3rd generation roofing companies are no match for what Mother Nature is capable of if the venting and insulation are not right.
***Anytime ice forms in the gutters you can bet the MANUFACTURER's WARRANTY IS VOID, resulting from the warm attic. The flawed attic insulation, weather-stripping, bath moisture, poor soffit venting are the building code violations that they use in their LIMITED WARRANTY.
What We Do To Eliminate Ice Damming
We have created soffits on homes without overhangs, installed low lying louvers, ridge vents, attic baffles, attic exhaust fans, Attic Access door Tents, duct tape, insulation to Prevent ice formation.
What do we do to protect from ice and provide our guarantee:
Along with ICE PREVENTION we have installed thousands of miles of Weatherwatch and Weatherlock G ice/water shield to protect thousands of homes from possible ICE DAMMING in cases of extreme weather.
With proper use these peal and stick bitumen membranes seal around our HOT DIPPED GALVANIZED NAILS after the pierce through tiles and underlayment creating an additional layer of protection in case mother nature makes ice on her own**
Other Common Roof Leak Situations
Click the links below to read about other common leaks that can affect your home.


Warning: Undefined variable $post in /home/lms2012/public_html/leakstoppersinc.com/wp-content/themes/leakstoppers/functions.php on line 82