Commercial Roofing & Repairs Nassau County
Nassau County's Most Reliable Roof Consultants!
COMMERCIAL / INDUSTRIAL ROOFING and Water-proofing
Aside from Same Day Emergency service calls, All Commercial and industrial roof consulting and surveys are done by the Company President/Founder.  His experience with roofs allow for an initial membrane evaluation, roof installation workmanship level, roof traffic assessment, view of all mechanical (HVAC) units, wall systems and roof drainage design.  This evaluation may dictate additional Core samples or Night-time Thermal imaging to further inspect any questionable decking and/or look for moisture.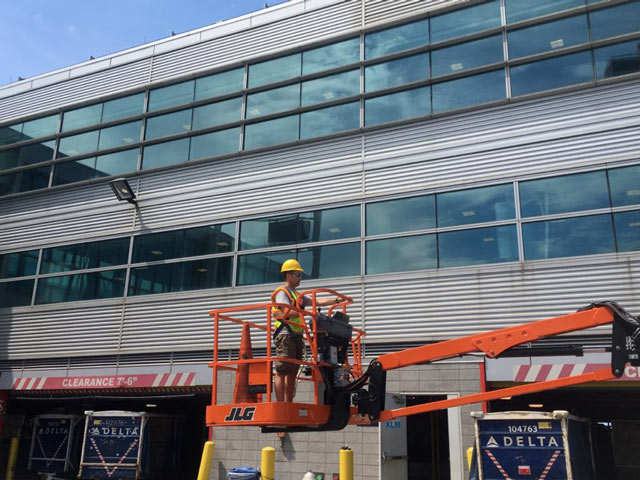 Today's roofs have and require different roof products to deal with roof traffic, potential debris (tree limbs and clam shells), wind forces (based off building height and surrounding topography) and building structure (decking).  Our diversity and understanding of these different materials' strengths and weaknesses, combined with the customers' needs and current building codes make us one of Nassau County's leading roof consultants.  Our leader's drive to efficiently and accurately STOP LEAKS has challenged us and cultivated us into one the best surviving Full Service Water-proofing companies.  Our Field Supervisors, Technicians and Foreman have all been exposed to and trained in HVAC, Plumbing, Roofing and Siding Systems.  Our leader's background in Architecture, Engineering and WEATHER Patterns help the team solve and repair any leak that is brought our way.
Knowledge of the presence of a vapor barrier, the amount of insulation, type of decking, structural strength, integrity of masonry walls, buildings moisture content in relation to the vapor barrier and R-value combined with our decades of analyzing roof failures and constant monitoring of past/current weather patterns (conditions that affect leaks) are all combined to decipher problematic leaks and prevent roof failure through preventative maintenance.  If and when a roof requires replacement, we use this info and have the ability to re-design a system that includes proper R value, expansion joints, counter flashing, wall system, fasteners, drainage…to promote a problem free and redundant system.  Experience and technology work together to create an analysis of what's above, in and under the roof that may or will affect the roof's (building's) performance before investments are made.
Leak diagnostics
Diagnostics are done through investigation of facts found on site, provided by weather history and by details the customer gives related to leak frequency (the time it takes for a leak to drip once precipitation has started), current form of precipitation, wind direction, wind speed, size of precipitation (mist, fog, drizzle, large rain drops) and understanding possible sources during a lack of precipitation is necessary to properly diagnose all leaks.  Improper diagnostics can waste thousands of dollars.  When proper diagnostic can distinguish between a roof leak and an internal air conditioning leak (clogged pan, leaking door panel or clogged filters), it is important that all clues (answers) be sought out to ensure the best (quickest and most cost effective) results.  Knowing when a roof needs repair, maintenance or replacement takes experience in all 3 of these roofing related services.  Through diagnostics and proper guidance our staff can help all customers effectively address all of their roofing service or replacement needs.  When leaks take a while to start and then stay a while, they are likely traveling from somewhere else (between roof layers possibly 100 or more feet).  Understanding how many layers, the pitch of the roof framing and the direction of steel decking with a good set of eyes is vital to tracking these leaks.  When a visual inspection is inconclusive we utilize night-time thermal imaging to detect hidden moisture.  Leaks occurring only during certain wind conditions are likely to be found on a/c ducts, walls and roof edges.  Leaks occurring only during hot summer days can be related to the integrity and proper service of roof top air conditioners, ducts and fans.  The lack of proper balance of exhaust vents versus intake (make up) vents and improper maintenance of these units can cause rain to be sucked into a building.  These leaks are hard to fix as the frequency of occurrence and lack of knowledge, related to air handlers, causes many roofers to make un-necessary and sometimes expensive repairs to roofing
Roof engineering
Design of a building's roof using today's building code to provide insulation, efficiency, water drainage and protection of the building and contents against forces of nature taking into account the surrounding topography and building size (height).  Most people associate Roof engineering with Leak analysis.  Engineers are not taught how to analyze leaks.  Through school they are taught the fundamental concepts of physics, gravity and wind, but knowing how to interpret the effects of these properties in relation to today's building materials takes experience, analytical thinking, good detective work (and sometimes a little imagination).  The founder of leak Stoppers was educated in Computer Science engineering before switching to a business and accounting major.  Science and engineering knowledge are critical in achieving a complete understanding of all possible leak scenarios, however experience is necessary to tie together the learned science, evidence and information available on a job site to create a thorough analysis.  It is through natural science that our company founder bases his leak theories (analysis).  He has tested, refined and proven his theories over the last 20 years while building this company.  Utilizing natural science and years of Experience working on Leaking Nassau County structures for over 30 years, he now can provide an explanation and possible Solution to any given Leak Situation.
Leak Stoppers combines Its own data with Artificial Intelligence (based off High Definition Photography) provided by Self Driving Aerial drones.  Piloting in for a close view or self-performing a pre-set flight, today's drones can detect roof damage while capturing accurate measurements (for fair and equal pricing).  These accurate measurements, safely executed inspections and multiple layers of analysis (through science and software) combined with our company's knowledge of recent weather and basic laws of science, make us one of Nassau County's Leading Roof Consultants.  Automated night-time flight combined with Thermal imaging can be layered over a daytime flight to show wet insulation, possible points of water entry as well as flaws in a buildings Envelope related to energy efficiency (energy loss).  Monitoring presence and levels of moisture also help with infrequent and puzzling leaks helping to end long term issues where others have failed.
**Our technicians are trained and certified to install complete roof systems with warranties ranging from 15 years to over 30 years using TPO, EPDM, Modified Bitumen, Silicone roof coating.**
Coatings
Roof coatings are very popular today as Many failing low slope (flat) roofs already have 2 or more layers.  Building code allows for up to 2 layers of roofing, requiring building owners to strip their roofing to the deck and start over.  These projects can cost $9-20 per sq. ft. based on size, height, lay-out and Specs.  In some cases, where the roof is not terribly failed, maintenance to the existing membrane with application of coatings can be done to extend the roof life and avoid this disruptive and costly job (for between $5-8 per sq. ft.) with manufacturer warranties of up to 20 years on labor and coating.
Non-roofing related commercial services
HVAC units, Solar arrays, Skylights and roof top Atriums require proper flashing, weather-stripping, cleaning and re-glazing.  Door access panels (weather-stripping), seams in HVAC ducts and pitch pockets contribute to 50% of our commercial roof leaks repaired come from these non-roofing items.  Roof perimeter coping (walls) and roof drains (scuppers) account for 40% of our service calls with only 10% of leaks resulting from failed roofing.  Small seals and joints require maintenance.  Tar and roofing do not keep out all leaks.  We use Lifetime GE Silicone products, Rubber weather-stripping, GacoPatch Silicone based 'flashing cement', Epoxy, pourable sealers, ALL SINGLE PLY, Mod-bit, Metal, Asphalt ROOFING SYSTEMS, custom Aluminum copings, Masonry (pointing), Drivit, wall flashings, Drylock and outside HVAC contractors to eliminate these threats.
Negative air is a term used when Attic fans, restaurant fans, HVAC units, and escaping hot air leave a building or home, creating a vacuum. In some cases, this negative air creates fast moving drafts. These drafts when combined with tiny rain drops (fog, mist) cause intermittent leaks that are often impossible. Rain is literally "sucked" into non-powered vents, air handlers, chimney stacks, and other openings. Our knowledge and thorough leak inspections/diagnostics will help identify this problem as well as other visible roof issues.
Whether you manage a major international airport, local church or the local deli in a strip mall, we can handle all your water-proofing, roofing and leak repair needs.
SERVICES:
Roofing design
Roof survey and long term planning
Thermal Imaging
Project Management
Roof Maintenance
Roof Replacement
Roof Coating
Emergency Repairs
Forensic evaluation
Expert Witness for legal disputes
Roof Restoration
HVAC / Ducting / Mechanical Evaluation (including issues with NEGATIVE AIR, make up air management, vapor screens…) and Repairs
Weather analysis (including wind direction, size and type of precipitation and temperature of recent storm systems)
Masonry pointing and water-proofing
Window/Siding assessment and repairs/installations
TPO (hot-air welded)
EPDM (contact cement/glued seams)
Modified Bitumen (Flame applied)
Liberty (self-adhering)
Silicone based roof coatings (sprayed or rolled on)
PVC (hot-air welded)
Closed cell spray foam (requires a coating to protect from UV)
Concrete (Coating is recommended over deck)
Industrial & Commercial Roofing Repairs Serving All of Nassau County
Leak Stoppers guarantees all of our work.
We are fully licensed and insured (see lic# at bottom of page) and provide same day services in most cases. Please CALL Leak Stoppers at our Suffolk County or our Nassau County office, or fill out our online form.